WEINIG CNC processing center: A flexible and secure path to the future
The WEINIG CNC processing center is designed for surface and beam parts from solid wood for the highest quality and flexibility requirements. Windows, doors, facades, conservatories and even furniture construction and assembly construction are only a small part of the current areas of application.
For trade or industry, our large portfolio of processing units, mechanization options and software solutions means that we can meet all needs in the individual construction models. All machines can be optimally equipped for all individual application and performance requirements. In addition, WEINIG supplies everything related to the CNC processing center up to project planning of complete solutions. Everything from a single source, everything from WEINIG
WEINIG can offer you the benefit of the experience of more than 3,000 window machine installations. This ensures that you are optimally equipped for the requirements of the future.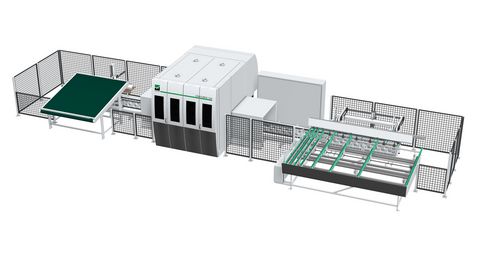 Profiling series for trade and industry
Complete processing in one clamping process
Processing without processing times even for small lot sizes
Automation enables less manpower in production
Maximum flexibility as a result of the large tool magazine
Energy feedback modules means savings in energy
Detail page Conturex processing center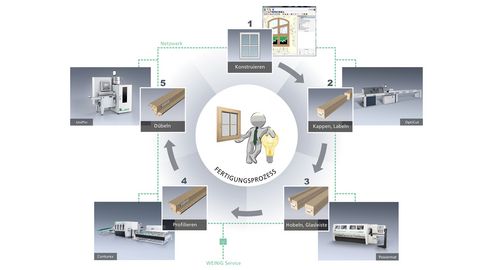 Linked system solutions for industries with high output
Networking of individual production steps based upon proven Conturex technology
Everything from a single source. WEINIG - Your partner in solid wood processing
Customized complete solutions for optimal profitability and quality
Detail page Conturex SYSTEM lines
NorDan factories undergo digital transformation
As an integral part of the strategy to modernize and digitize the window production in NorDan's factories in Sweden, the company invested of about SEK 50 million (Swedish kroner) in new machinery in 2018.

The window factory in Kvillsfors which primarily produces windows for the project market, and the window factory in Tanum which produces windows for the residential market have both seen new, fully automatic production lines for cutting/moulding and CNC machining. The equipment is delivered by WEINIG, a world leader on production machinery for the window industry. The machines are run digitally, receiving batch files directly from the ERP system. An incredible flexibility in use and high effiency are also key features in the investment.

The preparations began in Tanum and Kvillsfors in October 2017, to be ready to receive the new machinery from Germany.

The production lines for cutting/moulding are 30 meters long, and the CNC machining center measures 36 meters from end to end, says Tommy Egelström, responsible for the installation of the new machinery.

The cut and moulding line consists of 3 central units.
1. Vacuum destacking system
2. Opticut S 90
3. Powermat 1500

All 3 units are connected together in line and linked by transport units.

The new CNC machining center (Conturex 226) produces complete window components, and together with the cut and moulding line, only 7-8 minutes are required to machine all the components for a complete opening window.

These new machines let us reduce lead times in the factories, and the production lines can be run with fewer operators than traditional machines can, Tommy Egelström says. He adds that the machines are set up to be able to produce products from different product series in the NorDan portfolio, and that each machining center has a capacity of 260 tools with automatic tool change when needed.

The CEO of NorDan AB, Dag Kroslid, welcomes the investment and comments:
"This is a great leap for our factories. Machinery, flexibility and digitalization all plays into this, and the NorDan Group is sending a strong signal that the factories in Sweden are prepared for the future!"

For more information about NorDan: www.nordan.se
"All types of corner joints are possible"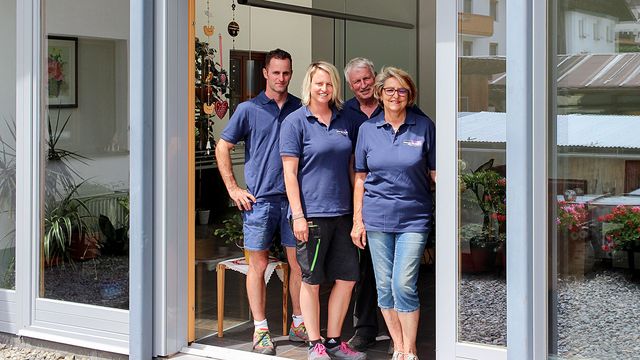 Austrian carpentry firm Nagl specializes in windows. To ensure the required precision, the company has worked with WEINIG technology for many years.
Axamer Lizum is not only the largest ski resort in the vicinity of Innsbruck. It is also home to Nagl. The small business supplies primarily private customers with wood and wood/aluminum window elements. Some 2,500 units are designed and produced each year, comprising windows as well as many large lift/slide doors. The company has been using WEINIG machines in its production for 40 years. However, requirements in the market have changed dramatically in recent years. Today, individually designed windows, special sizes of up to 6 x 12 meters and stronger profiles due to multiple glazing are a reality at Nagl. "Our old WEINIG system could no longer meet these requirements so we had to look around," says Franz Nagl. Ultimately, they decided on WEINIG technology once again. "WEINIG plays a leading role in the window manufacturing sector. So it made sense to stick with the brand," says Franz Nagl.
The new Powermat 700 moulder and Conturex Compact CNC machine are designed specially for profitable window production for smaller operations. An important criterion for switching to the new technology was the potential for flexible single-part production with relatively short set-up times. The two machines are now responsible for the complete processing of windows. The Powermat 700 performs pre-planing on all four sides of the window scantlings. Then, the Conturex Compact "takes over" and completes all required work stages in a single pass. The tool changer provides space for 70 tools for milling, drilling or profiling. Window frames can be produced in their entirety. "With the Conturex, we can produce all corner joints required by the market as well as processing slanted and round work pieces," says a delighted Franz Nagl.
Photo:
Heading for success as a family: Gerhard, Verena, Franz and Hildegard Nagl (from left)
Source: Tischler Journal
It all started with wedding dresses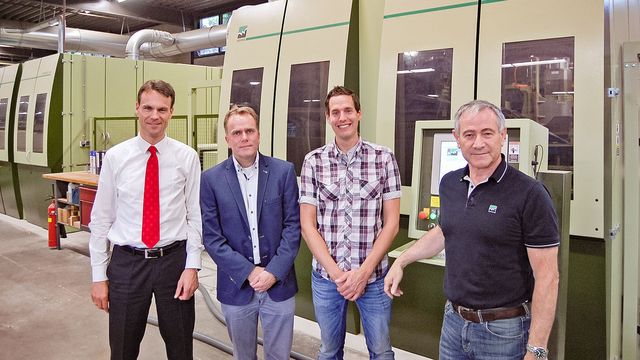 Exclusive bridal fashion shop Très Chic in the Dutch town of Hengevelde and nearby window manufacturer Hebo Kozijnen B.V. were founded by the same man. Marinus Kuipers knew how to build a market. His son understood how technology can shape success.
Marinus Kuipers had a lucrative wedding attire business. In the construction boom of the early 1970s, he also began selling turnkey homes. This perfectly complemented his window production business, which quickly expanded. On his travels, the entrepreneur's businesses were never far from this thoughts. One tour in 1982 led him to a bridal fashion customer in Tauberbischofsheim. Marinus Kuipers took the opportunity to visit WEINIG. On the same day, he signed a contract for a window production line. His son Norbert was there. In 1988, Norbert took over the business from his father and specialized in window production.
Today, Hebo Kozijnen B.V. is one of the leading window manufacturers in Holland. The factory in Hengevelde contains five operational Conturex CNC centers. The customer's investment in the WEINIG system was the culmination of a long search for the perfect production technology. They tried a number of approaches, each time completely reconfiguring the company's production. However, the quality-conscious window manufacturer was never satisfied. "The lack of facility to firmly clamp the work piece was the problem," says Norbert Kuipers.
At LIGNA in 2005, he discovered the WEINIG Conturex. The entrepreneur knew immediately: "That is how we need to work in future." The new Conturex handled all processing completely autonomously and delivered perfect product quality.
Today, with a capacity of 5,000 running meters per week in wooden window production, Hebo would be unthinkable without the investment in the Conturex. Having the courage to risk everything on a new system at the time required a certain lack of inhibition. Norbert Kuipers had this. He reduced bridal fashion, housebuilding and window production to a common denominator: Invest in the right technology and enjoy good sales later.
Maximum production depth is indispensable for Swiss window manufacturer Adi von Euw to maintain high-quality manufacturing. However, this only requires a small team since the degree of automation in the operation is enormous.
Adi von Euw wanted direct access to all stages of production of his high-quality windows. That is why every process stage from raw materials storage to surface treatment has been relocated to the Rothenthurm factory. This also includes metal processing for the company's own wood/aluminum systems. At the same time, the Managing Director has consistently driven forward the development of operations towards maximum productivity. As the variety of profiles in the market has expanded, we have had to adapt our technology accordingly. "The Conturex concept immediately fascinated me," says Adi von Euw. The highly productive system with complete processing of even complex profiles in a single clamping enables switching from one order to another with no changeover. The system is also based upon a modular concept that enables customized solutions for every requirement. Von Euw's tripartite Conturex system comprises 6 portals. Processing is performed on two tracks in parallel, which are equipped with 16 tables. Four of these supply the processing units alternately with window parts. Profile splitting with one and the same tool configuration ensures a high throughfeed, which can also seamlessly accommodate immersion functions. The system produces Von Euw's entire product spectrum. This includes round arch production, angled assembly of window and lift-slide door elements as well as angled window constructions with angles of ± 75 degrees. The required 2 parts per minute can be processed effortlessly. "In principle, the concept even enables performance of more than 3 parts per minute," says WEINIG window expert Dieter van Dyck. The fully-automated system delivers this high output with one-man operation and in excellent quality. "We can fulfill almost any customer request with little effort," says Adi von Euw.
Photo:
A meeting of quality fanatics (left to right): Fredy Dormann (WEINIG Holz-Her Schweiz), Klaus Müller (WEINIG Head of Marketing and Communication), Adi von Euw (Managing Director of Von Euw Fenster AG) and Dieter van Dyck (WEINIG Sales and Project Director)
"I never want to handle another workpiece manually"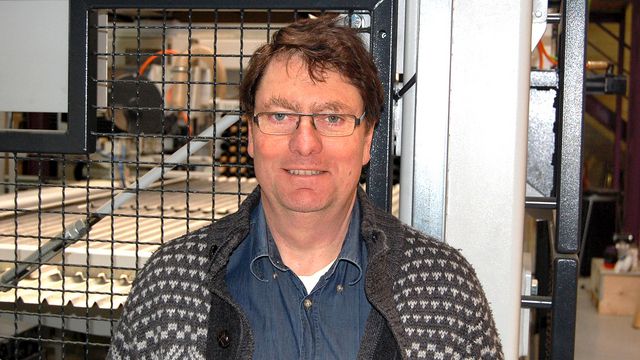 Optimal automation is the stated objective of French window manufacturer Bader. Managing Director Patrick Kaltenbacher had correspondingly clear visions for his new production equipment.
As a qualified mechanical engineer, competitive quality and cost reduction are priorities for Patrick Kaltenbacher. Since taking the helm of the company in 2002, he has had one particular objective – unstaffed production. "I will be happy when we never have to handle another workpiece," says Patrick Kaltenbacher.
At the Messe Basel trade fair, he came across the WEINIG Conturex CNC processing center. Complete processing with milling, drilling and profiling of external notches in a single pass came very close to his vision of perfect production. However, he also wanted to incorporate warehouse logistics into the process. The WEINIG technicians configured the a portal charging system with vacuum suction for the Bader workshop. The systems takes the raw scantling from the stack and feeds it to the infeed mechanization of the cross-cut saw. A further request was the integration of glazing bead production into the overall process. This is where the innovative WEINIG glazing bead management came in. The WEINIG Powermat not only processes the scantlings on four sides, it also profiles the glazing beads with ship laps in the same throughfeed. The beads, which are sorted in a special carriage, can then be fed back into the remaining production process in a sorted condition.
The third highlight of the system is the tool cleaning. Tools are fed into the cleaning bath automatically to build-up of debris. This means system downtime. The system has only been running for a matter of months. However, Patrick Kaltenbacher is already full of praise. "It is the system I have wished for."
Englert Fensterbau - success with the WEINIG Conturex Compact
Window production in its 4th generation
Tradition and progress are two decisive elements that confront you at Englert-Fensterbau in Sachsenhausen. On the one hand, the workshop has been in business since 1889 and is now in its 4th generation and successfully managed by master glazier Hubert Englert. On the other hand, the business is growing steadily and is now active in the regional market, with 7 assistance glaziers and an apprentice.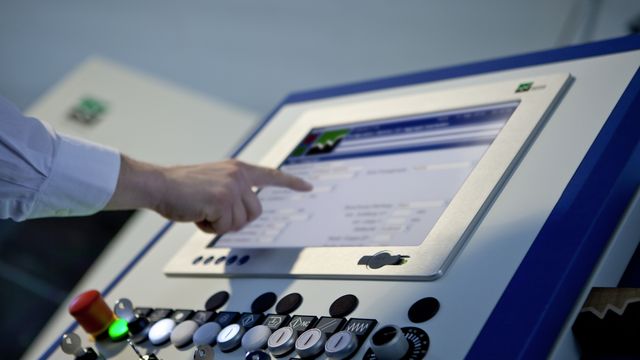 In the Conturex CNC center, Weinig offers an established machine concept that can be flexibly tailored to the requirements of window manufacturers – from standardized to highly complex systems. According to an article in trade journal BM, 10.2014 issue:
Östringer Fenster + Türen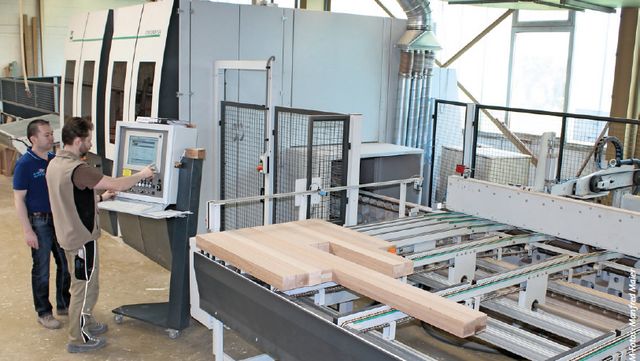 Östringer Fenster + Türen: Manufacturing like the big boys
Can small workshops still keep up when it comes to window and door production? Östringer answered this question in its own way: Their highly flexible CNC complete processing line practically dissolves the differences in performance between 'large and small'.
Tischlerei Kolb: Profitable production in a changing market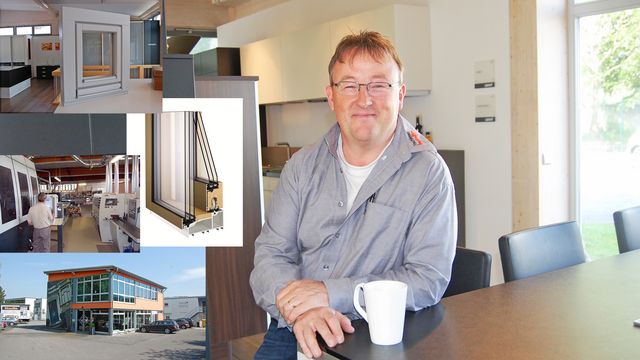 In the Bonn region, Kolb GmbH is part of the furniture. This is primarily attributable to the firm's interdisciplinary concept. The company adapts its window production precisely to the latest market requirements.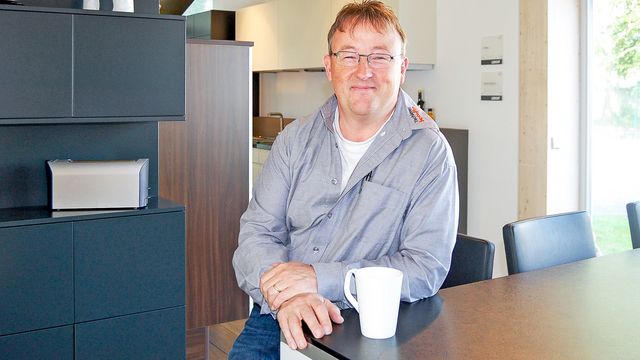 Frequent changes in market conditions require intelligent investment from window manufacturers. The decision to invest in new production technology is easier if it opens up new opportunities.
Like many other window manufacturers, German company Kolb was faced with increasing energy-saving requirements combined with increasing customization requests from customers. "Our objective to modernize production was therefore always about greater flexibility rather than increasing capacity," explains Josef Kolb. At the same time, the same technology was to be used to establish production of wood/aluminum windows. "The trend in the market is clearly heading in this direction and we want to be a part of it," says the Managing Director.
The company solved its problem with the WEINIG Conturex. From the outset, Josef Kolb was fascinated by the processing technology on the patented PowerGrip clamping tables. "Dimensional stability and surface quality are also very good with slender and short parts," he says. The expansion of the product portfolio has also been seamless. Josef Kolb: "The system enables us to produce different variants from pure timber windows to wood/metal windows with a single tool set. This saves us time and significantly reduces our costs." Thus, the introduction of modern WEINIG complete machining with PowerGrip technology has not only improved the company in terms of flexibility but has also opened the door to new markets.
Photo:
On the right track: Josef Kolb has future-proofed his production facilities
You have to believe in the future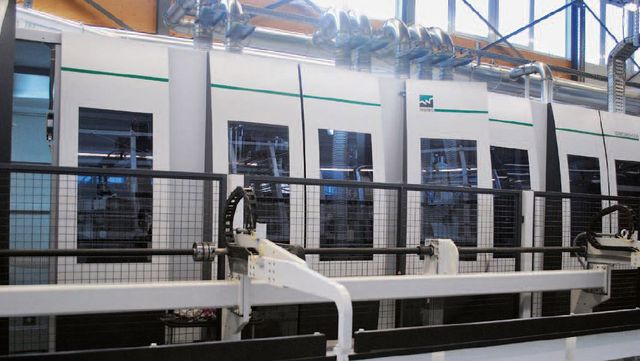 Such was the title of the attached report on window production at Klarer.
Klarer Fenster AG has ordered a new production line. Why this makes sense and what the considerations were is explained by the management themselves.
(Source: website of Klarer Fenster AG, http://www.klarer.ch/home/)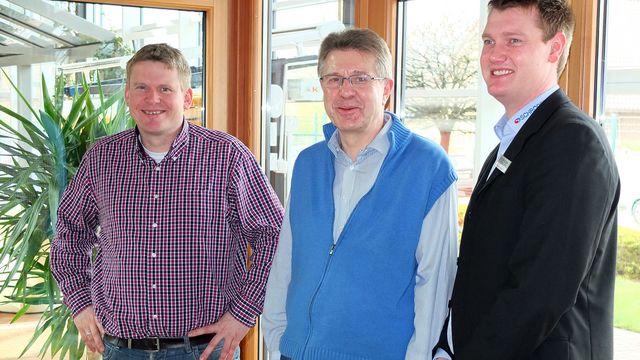 Smooth series production needs a strong partner. Fensterwerk Schröder GmbH took its lessons from a crash.

Shock at Schröder in Hesel, North Germany: A self-inflicted breakdown of the automatic planer paralyzed wooden window production. "At that time Weinig Service helped during the night. That's not something you don't forget" says Manfred Fecht, the Timber Production Manager, remembering the occasion. So when it came to acquiring a modern profiling center, Weinig was at the top of the list. "Meeting deadlines is of primary importance for us. In addition, we needed a fast line which could be used to produce the roughly 40 systems we have with consistently high quality and with minimal manpower", says Hendrik Schröder, explaining their requirements. The Conturex 124 in the 2nd generation was the perfect setup for them. They also invested in a Weinig optimizing cross-cut saw, which is linked up to the Conturex. The positive experience has proved the window specialists right: "I am impressed with the reliability of the line" says the Managing Director today. This is key, because Schröder GmbH makes full use of the Conturex capacity.