WEINIG wide planing series: Quality planing even with large dimensions
The WEINIG wide planing series is designed for manufacturers of glulam, solid construction timber, beams, block house production and solid wood panels. The wide planing series offers a machine for everybody in this segment. From the Hydromat 45 entry model to the Hydromat 700 for customers who want to produce very large dimensions at very high capacity.
What are your requirements? They are all within your grasp. Make your choice from our application-oriented range. And we refine the machine to your individual production requirements. Automation systems, tools, measuring systems, adjustment aids and grinding machines. Everything from a single source.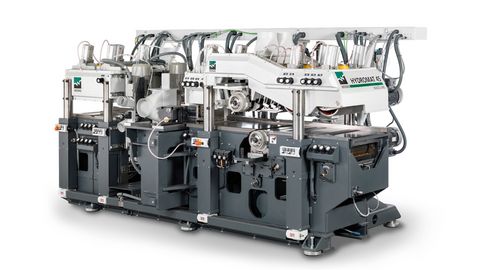 The robust planer for large timber dimensions
Reliable transport of workpieces with high degree of smoothness due to well-conceived feed system
Quick and accurate positioning of spindles due to CNC adjustments and of feed system using ball screws
High surface quality due to high-precision spindles for hydro tools
Long intervals between tool changes due to wide axial setting range of horizontal spindles
High yield due to floating vertical spindles for minimal stock removal
Detail page Hydromat 45
---
The WEINIG wide planing series provides
Perfect surface quality
Stable and continuous feed
Quick and easy setting with Memory Plus or PowerCom
Modular design: the right machine for each application
Easy to operate