An Iconic Family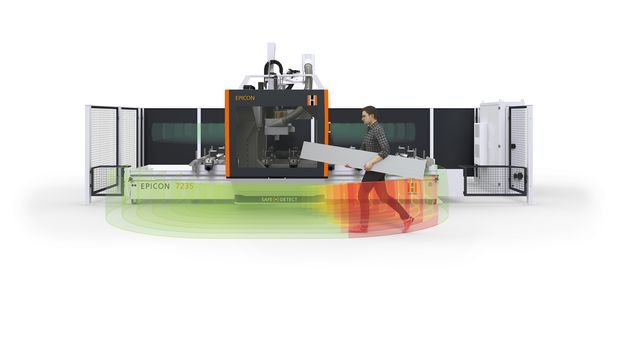 Following the successful launch of the Epicon 7235 last year, the Epicon range has expanded to include two further high performance, high precision 5-axis CNC machining centres and two new optional console tables.
Whilst varying in size, the new Epicon 7135 and Epicon 7335 - which have machining depths of 1,500mm and 2,100mm respectably - have been designed to offer exceptional machining flexibility and fast and effective milling on panels, solid wood and composite materials.
In addition to machining lengths of 3,680 to 7,280mm in the X direction, all three Epicon models offer a true 300mm of clearance above the top of the suction cup for extreme machining heights, as well as a generous 565mm Z stroke - an ideal solution for those working with complex workpieces, stairs, windows and doors.
Sitting on a tolerance-free, plasma cut base, Holz-Her's Epicon³ series has been built to withstand vigorous use. The family's 5-axis performance package is equipped with a powerful, liquid-cooled 13 kW direct-drive five-axis head as standard that can also be combined with HOLZ-HER's new Bluetooth Chip Control for data capture and spindle monitoring. An optional 18kw Pro-Torque electro-spindle for high machining performance is also available, along with a variety of automatic tool changing options and space for up to 97 tools, making it suitable for every configuration and application. An optional chip conveyor, which is available on the 7235 and 7335, and designed to be integrated into the machine base to save space, can also be specified to ensure even large quantities of chips are reliably transported to the extraction manifold.
Offering adaptable machining capabilities, three drilling units are available. As standard, the Epicon comes equipped with 10 vertical and four horizontal drills. Plus, a grooving saw with the option of two further horizontal drills in the X.
An optional XL drilling head, designed for more drill-intensive projects, such as adjustable shelving, offers 15 vertical and six horizontal drill. A further four horizontal drills and an extra grooving head can also be integrated into the machine. A larger XXL unit offers even quicker drilling operation and comes equipped with 25 vertical drills, six horizontal drills and a grooving saw. Four additional horizontal drills and an extra grooving head can also be specified.
For maximum flexibility, the EPICON³ series can be equipped with various machine tables. A manual positioning table with two laser pointers for the exact positioning of vacuum cups and display of workpiece contours comes as standard. Alternatively, Holz-Her's new synchro-drive table - which comes equipped with loading aids - moves all consoles and suction cups to their optimum position automatically within a matter of seconds, whilst taking into account the tool contours, passage and pockets. Suction cups for solid wood and special materials are also available for machining operations that require an extreme holding force.
All Epicon models can also be equipped with a VISE LED table that highlights the correct position of the console and suction cups using coloured LED strips. Designed for error-free positioning and millimeter accuracy, the VISE LED table even displays the angle of rotation needed and, for frequently recurring parts, the operator can save the suction cup position together with the workpiece, to ensure fast and simple set-up every time.
The Epicon's software offering has also been designed to reduce set-up time and costly downtime. The CAMPUS Plus software package - which includes new pre-programmed macros for effective five-axis machining - features BetterSim cutting simulation as standard. This allows the cutting steps to be checked even during work preparation, ensuring collision-free operation between the machine's tools, non-cutting area and workpiece. Additional simulations are also available of the suction cups and consoles for even more control over the machining process.
When using CAD software, the operator also has the option to create a tool path before machining. The professional DXF import of components from CAD software allows workpieces to be positioned on the work center directly from the CAD software. The only prerequisite for this is a matching layer in the design software. This allows for even complex 5-axis machining operations to be realised simply.
The Epicon³'s intelligent features don't stop there. When it comes to safety, the Epicon offers new, state-of-the-art sensor technology with automatic distance control. The introduction of SafeDetect means that, whilst the operator can benefit from free access to the machine, the space above the machine table, as well as the area in front of the machine, is monitored for all-round protection. Laser lines projected on the floor in real time continuously shows the operator the safe zone surrounding the machine head. If this is encroached, the machine will stop safely and securely. What's even more impressive, is that unlike a bumper system that needs to run at a very slow speed, SafeDetect runs at full speed until it gets within 1,400mm of the operator. It then automatically reduces the 131 mtr/min vector speed to traverse at 30 mtrs/min. When within 700mm of the operator, it will stop and when ready, continue where it left off. A guard fence also prevents access to the machining center's operating area at the side and rear.
Paul Nightingale, National Sales Manager for Holz-Her UK says, "I'm excited to take this machine to market. The Epicon³ range has been expertly designed and engineered to offer a wealth of different machining solutions without compromise. Not only does it represent German build quality at its best, the level of innovation within the machine is second to none. Featuring what I believe to be the best and most intuitive machine software on the market, you can't fail to engage in these easy to use, powerful Epicon CNC's. Our market share grew significantly in 2021 and with the introduction of the new Epicon family, Holz-Her's continued growth is assured."
To book your virtual demonstration or to talk to a Holz-Her CNC expert, please call 01235 557600.