Weinig UK Partners with BloQs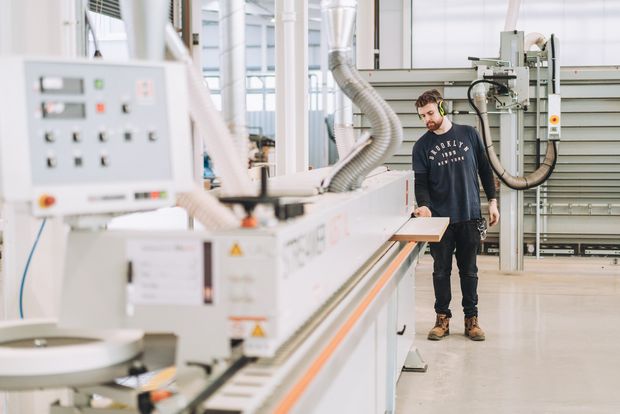 Leading woodworking machinery manufacturer, Weinig UK has announced a new partnership with BloQs - a not-for-profit organisation based in Enfield, North London. The business model, which centres around a shared workspace that is available for furniture makers, joiners, carpenters and designers to rent, provides small business owners with the machinery, training and business support needed to grow their business.
Al Parra, co-founder of BloQs explains: "Space is a valuable commodity in London and small and start-up businesses are often priced-out of the market when looking for suitable workspaces. Then there's the cost of equipment. For many, it's simply not financially viable to invest in the latest machinery or technology to assist them in their work. That's where BloQs comes in. As London's biggest makerspace designed for the professional maker, our members can book a workspace that is exclusively theirs and have access to machines and equipment that would otherwise be out of their reach. Members can simply book a time-slot on any of our digital machines - following a compulsory safety assessment and optional one-to-one training - giving them complete flexibility to come and go as they please."
In recent years, BloQs - who's premises sit within a £6bn regeneration area - has been awarded £1.35m by the GLA which was match funded by Enfield Council. "This award has given us the means to grow so we can support thousands of makers and creators across a range of disciplines," says Al. "The capacity of our new home means we've been able to forge a new relationship with renowned machinery manufacturer, Weinig UK. With their support, we are able to offer our members even more access to state-of-the-art machinery that has the potential to open up a whole new realm of possibilities for them."
The new partnership comes as construction on a new, purpose-built building to home Bloqs' nears completion. The new 32,000sqft workspace, which will sit alongside new classrooms, café, garden, shop and event space, will house five new machines from Weinig UK and sister-brand, Holz-Her UK, each with varying levels of automation, bridging the gap between their
existing, traditional woodworking machinery and the very latest innovations in solid wood and panel processing.
A 3-axis Dynestic 7505 flatbed CNC and 5-axis Pro-Master 7125 CNC will be positioned alongside a Sector 1254 vertical panel saw and Weinig Cube Plus 4-sided planer. Members will also have access to a Streamer 1057 XL edgebander, eliminating the need for the community to iron edgings on by hand.
Malcolm Cuthbertson, Managing Director of Michael Weinig (UK) Ltd says: "We immediately got a sense that the founders of BloQs wanted more than just machinery from their machinery supplier. They wanted a partnership that would return longevity and ultimately, a company that would invest in their vision.
"For us, we saw this partnership as a way of giving something back to the industry, nurturing new talent and helping facilitate people's journeys within it. And what better way for us to engage with the woodworking community than by supplying them with the very latest technology on the very best machines? This gives us an opportunity to showcase our machinery to a wider audience and for them to get first-hand experience using it. For us, it's a brilliant opportunity to invest in our industry's future and those working in it and we're excited to see new and existing members take full advantage of BloQ's new machinery line-up."
Machinery installations are now nearing completing, with the opening of the new premises set for November 2021. For more information please visit weinig.co.uk or buildingbloqs.com.