Maximum performance at minimum temperatures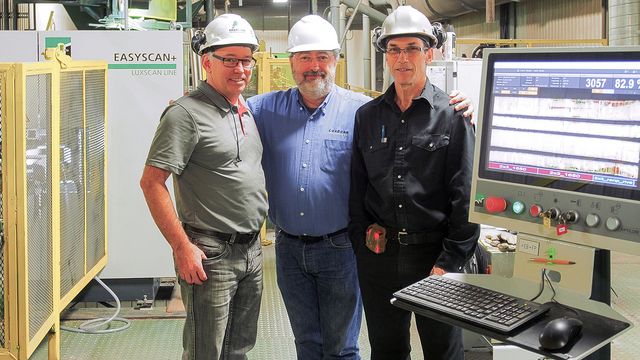 In Chibougamau, in the far north-east of Canada, the winters are long and icy. Forestry and mining have shaped life in the region since time immemorial. However, high tech has also naturally embedded itself.
Chantiers de Chibougamau, a subsidiary of timber construction group Nordic Structures, predominantly manufactures solid wood beams, CLT structural elements and glulam. The efficient production operation also includes the use of scanner technology. Until recently, a Luxscan C180 was operating without a hitch in 2 to 3-shift operation in the harsh environment. Based upon their positive experience with the machine, the company has turned to WEINIG once again. This time, they have opted for an EasyScan. In its latest iteration, the EasyScan+ offers detection performance on a par with WEINIG's high-end scanners. The EasyScan+ is also equipped with a scatter laser, which enables optimal crack detection and significantly increase timber yield.
The scanner is working at Chantiers de Chibougamau in two-shift operation. The wood is checked by the camera-based system according to defined quality criteria before being sorted and fed to the two Weinig Dimter cross-cut saws. The production line operates at a speed of 225 m/min and achieves a throughfeed output of 32,000 m per shift. Thanks to the excellent detection performance, the system achieves a wood recovery of 84 percent. This represents a 20 percent increase in value creation compared with the previous model and significantly reduced losses during subsequent finger jointing. The Chantiers de Chibougamau team is completely satisfied with the new investment. A delighted Quality Manager Daniel Tremblay says: "It's like a dream. We never have to worry about the scanner. You simply have to press start and stop and the result is a consistent product to a very high standard of quality."